Högstam Barrväxter 'gArt-Collection'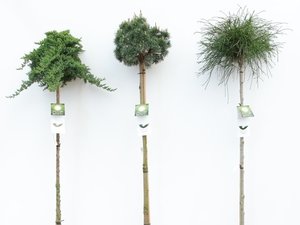 The gArt collection is a unique collection of dwarf conifers on a high rootstock. A slow-growing conifer, such as Thuja plicata Whipcord, is based on a high stem. The trunks vary from 1.80 to 2.5 meters in height. Due to the slow growth, these trees have had a long growing period and most specimens are more than 10 years old. This has created a plant that does not need to be pruned or hardly. This responds to the need of consumers for maintenance-free gardens.

EXCLUSIVE EYE CATCHERS

The conifers of the gArt collection are evergreen, except for Ginkgo, and are hardy. These exclusive trees stand beautifully along a driveway or give allure to the garden with a low undergrowth. The trees have a high ornamental value and are also beautifully solitary in a terrace. With a conifer from the gArt collection, the customer has an eye-catcher that gives the garden a special appearance due to its special shape.

GART COLLECTION ASSORTMENT

The gArt collection consists of various types. The size varies from 1.75 to 2.5 meters in height. The pot sizes vary from C10 to C30. You can choose from:
Cedrus

Cedrus libani 'Glauca Pendula

Ginkgo

Ginkgo biloba
Ginkgo biloba 'Mariken'

Juniperus

Juniperus communis 'Green Carpet'
Juniperus communis 'Greenmantle'
Juniperus procumbens 'Nana'

Larix

Larix kaempferi 'Blue Dwarf'
Larix kaempferi 'Stiff Weeping'

Pinus

Pinus densiflora 'Low Glow'
Pinus mugo 'Allgäu'
Pinus mugo 'Mops'
Pinus mugo 'Varella'
Pinus nigra 'Bambino'
Pinus sylvestris 'Chantry Blue'

Thuja

Thuja occidentalis 'Danica'
Thuja plicata 'Kager's Beauty'
Thuja plicata 'Whipcord'
Du måste vara inloggad för att se produkterna.